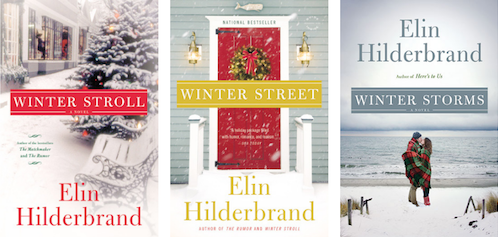 I've read every single book that Elin Hilderbrand has written. I adore her and I'm absolutely obsessed with Nantucket. I've only visited once, but I'm dying to go back. My favorite of Elin's novels happens to be The Blue Bistro, but for the last three holiday seasons I've waited like a kid on Christmas Eve for each new installment of her Winter Street Inn series. These books combine my love of Christmas and the magic of Nantucket and wrap it all up in a sparkly bow. The narration for these holiday adventures, celebrations, turmoils, and tribulations is told from the perspective of multiple members of the Quinn Family. There are a lot of Quinn's to deal with but they're each thoughtfully constructed personalities who all seem extremely real.
We begin the series with Kelley Quinn, innkeeper extraordinaire, discovering that his wife has been having an affair with the man who plays Santa Claus at their annual Christmas Eve bash. His son Kevin is a bit of a lost soul and secretly involved with a woman who works for their family. The golden child, Patrick, has just been nabbed for insider trading — oopsie — and is hiding out in his Beacon Hill digs full of self loathing while eating caviar and avoiding frantic calls and texts from everyone. Meanwhile, daughter Ava just wants to be engaged but her boyfriend bought her an insulting Christmas gift and her boss, Scott, is looking pretty attractive under the mistletoe. In addition, if one more person asks Ava to play Jingle Bells she's going to break something. Finally, the amazing Margaret Quinn, Kelley's ex-wife, happens to be a combination of Dan Rather, Katie Couric, and Barbara Walters all rolled into one. She's the voice of America and a hugely popular nightly news anchor. I just love them all.
My "pro tip" for devouring these novels at this busy time of year is to get them as audiobooks. They'd be fantastic stories to listen to while you're trimming the tree, peeling potatoes, rolling out cookie dough — you get the picture. Most local libraries let you borrow audiobooks, or, if you don't already have an account you should check out Audible. When I signed up eons ago they only gave you one free book to listen to, but apparently now you get two and I'm terribly jealous.

I was pretty sad when I finished what I assumed was the final book a few weeks ago, but according to Elin's Twitter feed it sure sounds like there are going to be more Quinn Family tales in the future. Fingers crossed for a Fall 2017 Winter Street Inn Book 4!