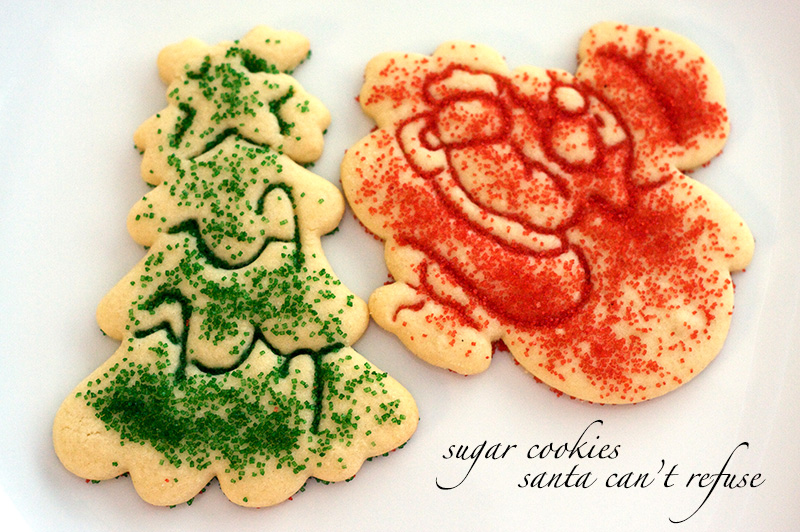 My food blog, ErinCooks.com, that now sits in deep hibernation (oopsie) features a number of posts where I used my go-to sugar cookie recipe for countless holiday treats. I've actually been using the same sugar cookie recipe since my friend Anna recommended it to me back in 2002 (so the stone ages). That's a lot of sugar cookies, people. This means that I wholeheartedly stand by this recipe 100%. It makes the best, thick, chewy, and buttery sugar cookies ever. Just make sure to follow a few tips I've learned over the years:
Roll the chilled dough to a 1/4 inch thickness (no less)
Bake the cookies on the middle rack in your oven
ONLY let them stay in the oven for 10 minutes. I don't care if they are raw. Only 10 minutes!
Remove them from the oven and leave the cookies on your baking sheet for 2 more minutes and them place them on a cooling rack.
Voila! Christmas cookie achievement unlocked. Any additional notes on the recipe that I've added are in bold below.
Old Fashioned Sugar Cookies (Originally published on the Food Network website)

1 cup butter, unsalted
1 cup white sugar
2 eggs, lightly beaten
1 teaspoon vanilla (the good stuff, Ina said so)
3 cups flour
2 teaspoons baking powder
1 teaspoon salt
In a bowl, cream together the butter and sugar. Then, beat in the eggs and vanilla.
In a second bowl, combine and mix well the flour, baking powder, and salt.
Stir flour into butter mixture 1 cup at a time.
Chill the dough for 3 to 4 hours.
Roll out dough and cut into shapes with cookie cutters or a knife. Roll the dough out thickly (at least 1/4 of an inch).
Bake on a sheet pan or a parchment lined sheet pan (actually, please use a silpat) in a preheated 350º oven for 10 to 15 minutes depending on the size of the cookie. To keep them from getting crispy and possibly burned take the cookies out of the oven at the 10 minute mark. Leave the cookies on your baking sheet for 2 additional minutes (use a timer!) and then place them on a rack to cool completely.