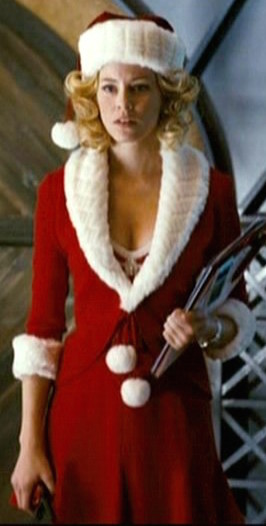 There are actually quite a few feature films with Christmas themes popping up in the news lately. Whether or not they actually become fully fledged productions is of course anybody's guess. We all know that hollywood is notoriously fickle. For instance, I'm still pretty miffed that the rumored remake of Christmas in Connecticut starring Jennifer Garner never happened. It would have been perfection. Maybe they'll change their minds? Probably not, but in the meantime here's what I've come across so far:
Elizabeth Banks is producing a Mrs. Claus film. Right now it's being reported that she maybe won't star in the movie but I have a hunch that she will. How could she possibly resist? Bustle has a great lists of reasons why she'd make the perfect Christmas Queen as well in case you need any additional convincing. I also hope it's a bit dark and weird, which seems like a pretty good bet considering some of the people involved.
The Let it Snow adaptation has been rumored to be happening for awhile and I was very confused last year and accidentally thought that Love the Coopers was Let it Snow.  A valid mistake really as Love the Coppers was apparently originally titled Let it Snow. This time I have the right book-film project though. I promise. Supposedly we'll be watching this movie on December 9th, 2016 but since they just found a director I'm not so sure about that.
Disney is reportedly making a new live-action version of The Nutcracker which will be directed by Lasse Hallström. Hallström also directed the delicious film Chocolat. Hmm…maybe Johnny Depp can play the Nutcracker? Somehow I think he'd roll his eyes at the mere suggestion but you never know. He does like bizarre roles.   
Finally, we have Office Christmas Party (let's hope they jazz up that title a bit) with Jennifer Aniston, Jason Bateman, T.J. Miller (that guy from Silicon Valley), and Kate McKinnon. I don't currently feel very excited about this, but maybe they'll actually come up with a more original premise then people get drunk, shenanigans ensue, and it snows. If so, I'll happily get on board.