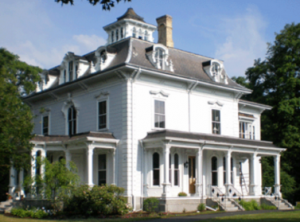 This is pretty exciting!
An independent holiday movie is being filmed on location in Massachusetts right now. It's reportedly called Holly Grove and a good part of the film will take place at Proctor Mansion which happens to be a very pretty inn in Wrentham, MA. It hasn't stopped snowing in my state for pretty much the last 3 weeks so I can assure you all that if the production company was hoping for sparkling snowscapes they'll have more than enough fluffy white stuff to use as a festive backdrop. Need proof? Here are a couple of shots from the inn's Facebook page.
According to The Wrentham Times, the synopsis for the film is as follows: Holly Grove tells the story of a female attorney from the city who goes to a small town to finalize the estate of the owner of Holly Grove Inn, which in the film is the Proctor Mansion. Set right during the Christmas season, the attorney discovers the Inn is haunted by a man who died in the early 1900s and returns every year before Christmas.
If I learn anymore details about the movie I'll let you know.
Image via www.proctormansioninn.com